The right to health of homeless people
6 December 2016
The cold season of the year has begun and the homeless are seeking a warm shelter. Many of them are waiting in line at the Hosting and Guidance Center for homeless in Chisinau, but the center doesn't have not enough space for everyone.
Among the various difficulties homeless people face is also the access to health care services. Most of the times this group reaches authorities sightr only when they have serious health problems and end up at the emergency hospital, where they are constantly placed on different corridors.
A recent study conducted by our organization members presents the medical and social profile of a homeless person from Chisinau. The atatus of the homeless is associated with a lack of stable income. This group is relatively young (up to 50 years old) and composed mainly of men. The most common cause for which they remain in the street is losing their housing and as a result they find themselves in harmful practices such as alcohol (49%) and drug consumption (5%). Regarding the health state of homeless people we can report the following results.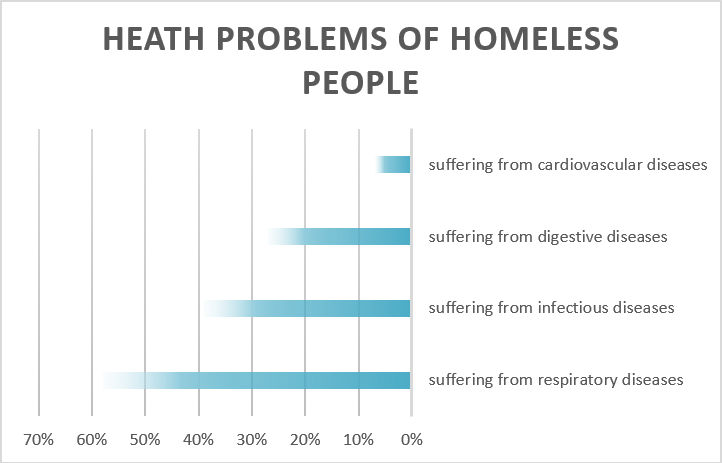 This study was conducted by the AFI within the project "Strengthening the capacity to diagnose TB and detect MDR-TB by implementing the GeneXpert method MTB/RIF at the district (rayon) level with a focus on high risk groups" funded by TB REACH StopTB Partnership and implemented by the Center for Health Policies and Studies.
According to the study, 2/3 of homeless people do not know their family doctor or the center of family doctors to which they are assigned. The lack of money and lack of medical insurance policies are the reasons for avoiding health services. Many have confirmed that in the last 12 months needed medical consultation, but didn't go to a doctor because they had no money, din't know how to get to the hospital or pay for treatment. Homeless people are practically deprived of access to health services.
In this context we think it's appropriate to mention the effort of the Office of the Ombudsman in the period 1 to 10 December 2016, the Decade for Human Rights, which has as its theme this year, promoting the right to health. Within the Decade, the Ombudsman institution has planned several events, including organizing trainings, lectures on the topic of the right to health, patient rights; a press club in the same subject, distribution of information materials published by the Office of the Ombudsman ("14 patient rights' right to informed consent", "The right to be properly informed").