TIME Impact - a new user-friendly tuberculosis model to inform TB policy decisions
19 April 2016
Tuberculosis (TB) is the leading cause of death from infectious disease worldwide, predominantly affecting low- and middle-income countries (LMICs), where resources are limited. As such, countries need to be able to choose the most efficient interventions for their respective setting. Mathematical models can be valuable tools to inform rational policy decisions and improve resource allocation, but are often unavailable or inaccessible for LMICs, particularly in TB. We developed TIME Impact, a user-friendly TB model that enables local capacity building and strengthens country-specific policy discussions to inform support funding applications at the (sub-)national level (e.g. Ministry of Finance) or to international donors (e.g. the Global Fund to Fight AIDS, Tuberculosis and Malaria).
TIME Impact is an epidemiological transmission model nested in TIME, a set of TB modelling tools available for free download within the widely-used Spectrum software. The TIME Impact model reflects key aspects of the natural history of TB, with additional structure for HIV/ART, drug resistance, treatment history and age. TIME Impact enables national TB programmes (NTPs) and other TB policymakers to better understand their own TB epidemic, plan their response, apply for funding and evaluate the implementation of the response.
The explicit aim of TIME Impact's user-friendly interface is to enable training of local and international TB experts towards independent use. During application of TIME Impact, close involvement of the NTPs and other local partners also builds critical understanding of the modelling methods, assumptions and limitations inherent to modelling. This is essential to generate broad country-level ownership of the modelling data inputs and results. In turn, it stimulates discussions and a review of the current evidence and assumptions, strengthening the decision-making process in general.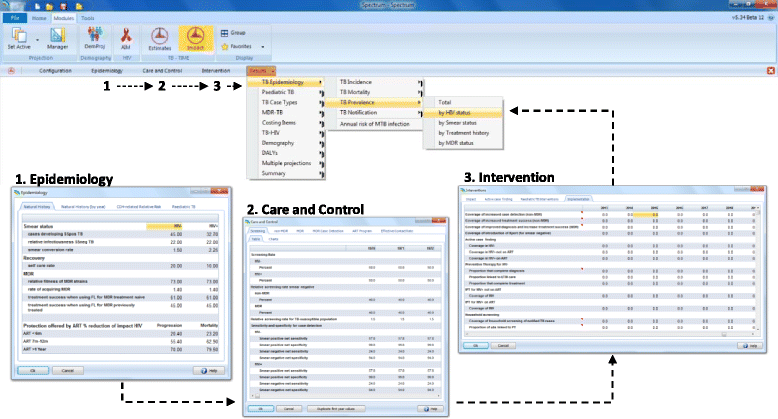 This is how TIME Impact's user-friendly interface looks. It enables technical capacity building within National Tuberculosis Programmes. The user works through the different windows of (1) epidemiology, (2) care and control, and (3) interventions before visualising results (see drop down menus)
As the development process continues in collaboration with stakeholders from the TB community, the focus remains to integrate capacity building with generating modelling results that have a high local ownership, now considered for policy discussions at the national and sub-national levels.
If your are curious to find out how this tool works you can read the whole study here.