Video Observed Treatment for Tuberculosis – an innovative solution scaled at the national level
28 June 2020
In 2015 we've started experimenting with an innovative approach in the treatment of tuberculosis aiming to increase patient comfort, given the results of a study we've conducted at that time, which showed that about 40% of TB patients had a computer and internet access.
The Video Observed Treatment (VOT) offers patients the possibility to receive TB treatment are at home, at work, or while in vacation without having to make daily visits to the polyclinic in order to take the pills. All they have to do is record how they are taking the pills and send the video-message to an VOT observer via a specially designed application. The app can be accessed at www.tbvot.md.
An AFI team member instructs the patient on how to use the VOT application
At the moment, when we face a global pandemic, this treatment facilitates more than ever the burden of patients who cannot travel daily to the polyclinic. That is why we've continued to make an effort to implement this technological solution at the national level. After several years of testing, the VOT treatment was scaled to the national level starting with March 30, 2020. The AFI team took on the task of facilitating the process of equipping the polyclinics with tablets, but also training the doctors and nurses on how to use the VOT app. Currently, the VOT treatment is conducted in Chisinau, Ialoveni, Anenii Noi, and has 59 registered patients. The graph below illustrates the detailed results of the program obtained so far.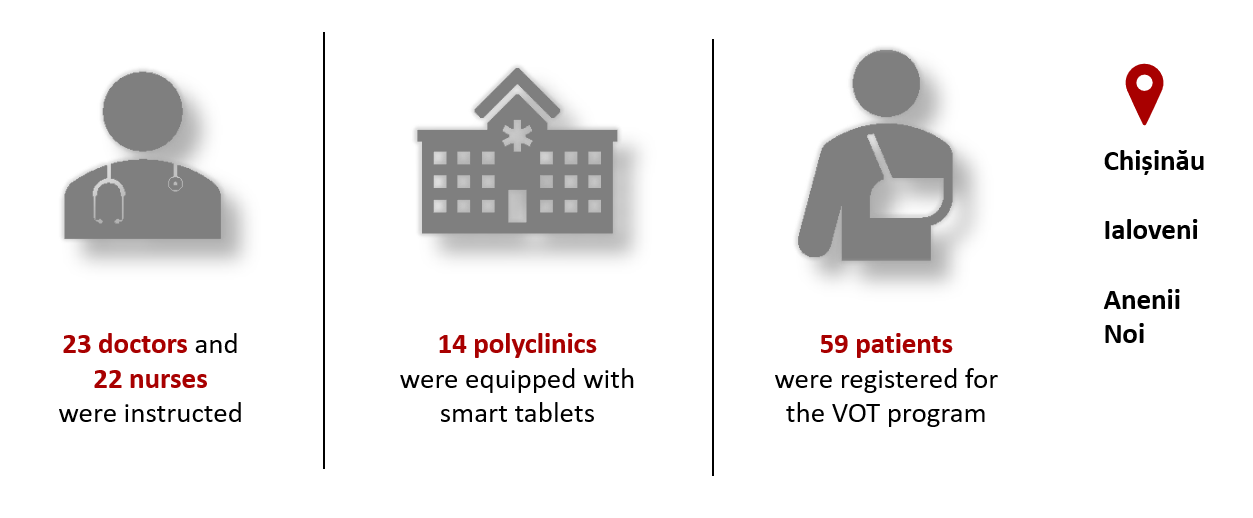 Results of VOT implementation at the national level during April - June 2020
This new approach to TB control aims to increase the quality of life and comfort of TB patients with the help of modern technologies.
This application was created within the project "Model of care focusing on the needs of people in Moldova: implementation of digital techniques for better adherence to treatment", supported by the TB REACH Initiative of the STOP TB Partnership, funded by the Government of Canada and the Bill & Melinda Gates Foundation, implemented by the Centre for Health Policies and Studies, in collaboration with the National Program for Tuberculosis Control implemented by the Ministry of Health, Labor and Social Protection and IMSP Institute of Phthisiopneumology "Chiril Draganiuc" and AFI Center.